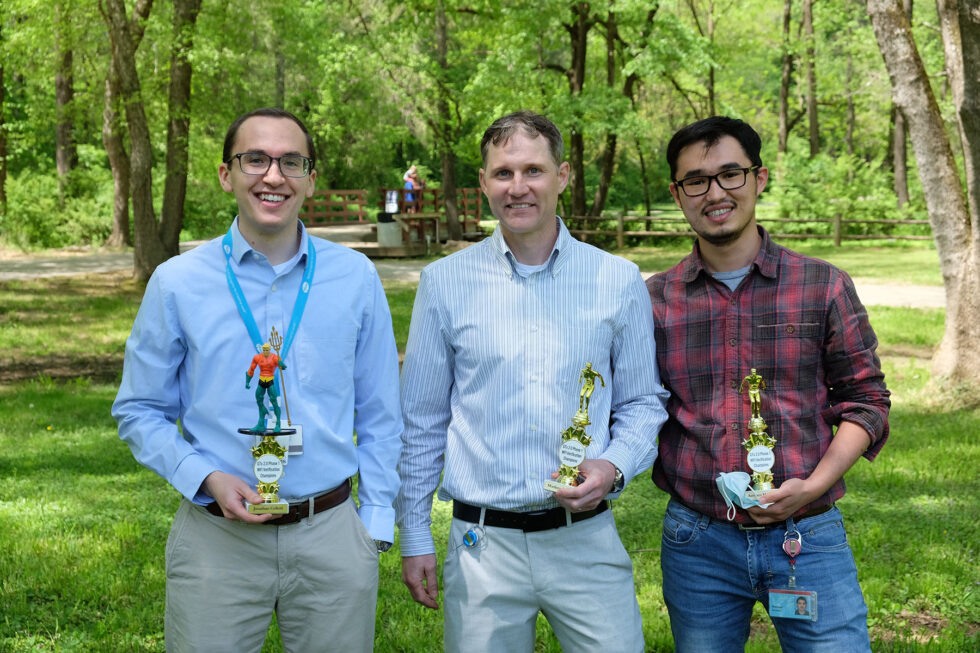 Thanks to a brilliant idea by Engineering Regional Manager Jarred Christofaro and one of our clients at Pfizer in Sanford, Gavin Wendel, we were able to gather together and celebrate Jonathan Colletti, Matt Johnson, and Aershen Muheyati for their tremendous work on a rigorous WFI project. Read on to learn what both Jarred and Gavin had to say about what makes this team great!
What makes this team stand out?
The WFI sampling team was faced with the most complex WFI system Sequence has ever experienced. These WFI systems are among the largest on the Sanford site and required several hundred samples to be prepared, taken, submitted, and summarized. The team safely sampled during all hours of the day, night and weekends to support our critical EMPQ milestones
What major milestones were accomplished?
This is the first WFI PQ to be successfully sampled the first time (without restart) in the past 3 years on the Sanford site!
Why do they deserve these trophies?
The grit, determination, and dedication to bringing up these water systems ahead of schedule and no major critical failures is truly an accomplishment.
Anything quotable from the client?
From Gavin Wendel "As we move into heavy fieldwork and VTP execution, there have been a lot of members on the team that have gone above-and-beyond to make sure we stay on track and that the work gets done. But over the past three months, no one has stepped up more in this regard than Jonathan Colletti.
When Marcus left to support a start-up, Jonathan switched gears very quickly taking over the largest and most complicated sampling operation for this project. And speaking from experience, I believe the largest and most complicated sampling operation that validation personnel has ever attempted on the Sanford site.
He has encountered a lot of challenges along the way: From getting everyone to agree to hold times, dealing with COVID restrictions and Security concerns in dropping off samples, lots and lots of training, and even coordinating operations support and providing the necessary training. All of this work was absolutely necessary to get to where we are today: ready to take ownership of the system and start quality sampling.
It can certainly be very frustrating work at times. But regardless of the challenges, he keeps at it with a positive outlook. I am grateful he's on the team and all the work he's done to overcome the various obstacles. "
What should other consultants take away from their success? This is a true example of what we embody from a Sequence perspective.
Attitude, Aptitude, and Initiative are at the core of what makes this entire Sanford Team successful. The dedication this team has to the work they do and the people they work with is paramount to our overall success.